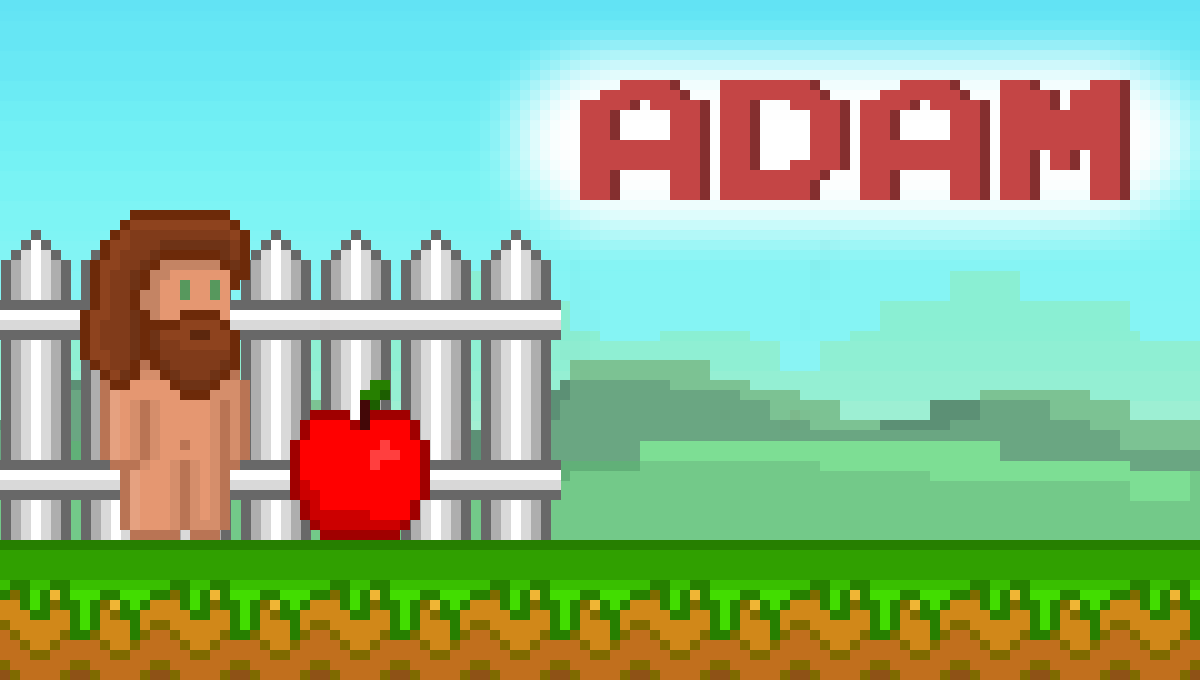 Adam
A downloadable game for Windows
What is Adam?
Adam is a platform game, based off the famous epic poem "Paradise Lost" by John Milton.
Follow our Greenlight page here: Click here.
What can I do in Adam?
Currently, Adam is in Beta. There is a tutorial and a level editor in the game that you can use to create unique and mind-blowing levels. You can save these levels and play them, or you can download other people's levels to see what they have created. There are new features, enemies and tiles added in every update.
In the future, story mode will be added, with levels made and arranged in order to tell a story. There will be nine unique regions, each with its own set of levels. The regions will vary from the Garden of Eden to the Depths of Hell, with each incorporating their own tile set, enemies, bosses (TBA), and adventure.
I have an idea for the game!

We will gladly take in any positive feedback and criticism, and hopefully incorporate it in our game!
Any features planned for the future?
Multiplayer support
More enemies
More tiles
More particles :D
Bosses
Story mode
Change more settings in level editor
Bug fixes (my favoooorite)
There are patches every week with new content.
System Requirements
Minimum:
Windows
Intel core 2 duo
Integrated graphics card
1 GB of RAM
250 MB disk space

Recommended:
Windows
Intel core i5
Dedicated graphics card
2 GB of RAM
250 MB disk space
We have not tested all computer types, so these are estimated requirements.
Patch Notes:
v0.7.0

Rewrote the enemy class so that enemies are more consistent. For example, some enemies would not create particles after death, and some would not disappear after dying. Now they all have the same behavior except for their interactions with the player.
Restructured a lot of the code to make adding new things easier.
Added connected wall textures for stone.
Now you can zoom out in the level editor to edit more tiles at a time and get a better idea of the level layout.
Added minimap to level editor. In the future you will be able to go somewhere faster with it.
Changed the way tiles are selected to be rendered by the game, which should increase the performance for integrated graphics cards by about 10 fps.
New open level window. It is not an ingame window, and you can rename, delete and create new levels in it.
Added blue flowers to the game.
Added bat animations.
Added another sequence of hellboar animations. Now there is only one sequence left before it will be ready for gameplay.
Fixed a bug where Adam's velocity would not be reset when he hit a wall, resulting in him flying out of it.
Added cacti to the game.
Added void crystals to the game.
Pressing escape when testing a level from the level editor now bring you back to the level editor instead of the main menu.
Trying to play a level without a player spawn point is now not possible.
Enemies now drop gems.
Picking up gems now adds to the player score.
Getting points now displays splash text.
Getting points now changes the color of the score number.
Fixed sounds and music being too loud. A settings option to change volume will come in another update.
Fixed bug where game would crash when an enemy fell out of the world.
New stone tile.
God now has one dialogue line. The ability to change what he says will be added in a future update.
The W key above God has been centered.
There are three new crystal tiles that drop gems when hit. Sounds are a bit low but will fix in future.
Added skulls and stalagmites to hell stone.
Camera is now smoother and looks in the direction the player is facing.
Falling boulder now goes back to its original position, has new sounds and is a bit slower.
Changed full screen button so that it toggles between borderless mode and fullscreen.
Marble blocks now connect properly in level editor.
Removed useless marble block that did not exist.
Added the sand wall tile that was missing.
Fences now connect properly in level editor.
Special tiles and corner pieces now become transparent when in wall mode.
Sand, mesa, and hellstone now has connected wall textures.
Can change soundtrack with commands.
v0.6.1.0
Added glows to lava and lava particles.
Added bats, ducks, falling boulders and Being of Sight. Some sounds and textures are still missing.
Added yellow glow to torches.
Gems now have glows around them.
Being of Sight projectile uses the new lighting effects.
Gems now spawn from chests.
Removed unused buttons from main menu.
Corrected keyboard shortcut keys in level editor.
Level Editor now opens with the 'E' key.
New sounds for opening and closing level editor menu, as well as new sound for selecting a tile.
v0.6.0.2 - Removed buttons from main menu that had no functionality.
v0.6.0.1 - Added level editor. New tiles such as void, ice and snow. Chests work but are not finished. Hellboar added and has improved collision and more sounds, but animations are still in progress. Lost enemy added. New walls and different textures for existing walls. Ability to change background of level editor added. Bug fixes and new collision detection procedure (should be smoother and less buggy).
Download
Click download now to get access to the following files: